One of the most powerful ways Learning Circle can be used is to help districts, schools, and classrooms provide underserved students with the extra resources they require. 
Here's how schools are using Learning Circle to achieve equity: 
1. Identify Underserved Student Groups
.
Learning Circle helps educators analyze at-risk underserved students by using filters to compare underserved student groups to not just the overall school population, but any other sub-population in the school.
By using Learning Circle schools have the power to answer the following questions:
Are certain student populations disciplined more often than others? What type of discipline do they receive? Does it cause them to miss school (i.e. suspensions)?
How are certain student groups doing in academics? Do some groups perform better or worse overall? How about in certain subjects (i.e. Math vs English)?
Are all student groups attending school at the same rate, or do some student groups miss school more often than others?
For example, schools could compare by:
Male vs Female
Race vs Overall Population
Race vs Race
IEP vs Overall Population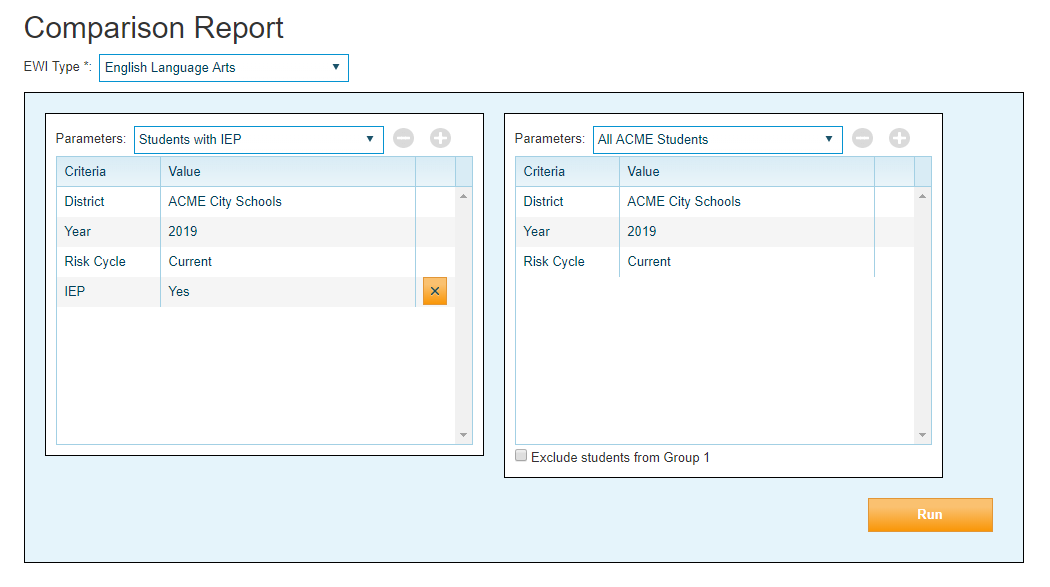 And the comparisons can get even more granular than that…
7th Grade Males vs 7th Grade Females
High School White Males vs High School African American Males
3rd Grade Hispanic with an IEP vs 3rd Grade Hispanic (no IEP)
Just identifying the underserved students isn't enough though.
With Learning Circle, you have the power to easily refer and manage these students into interventions and programs designed to provide them with the resources they require…
2. Manage and Refer Underserved Students into Interventions and Programs.
By working with other educators and community partners, underserved students can be referred to programs that will help them succeed both inside and outside the classroom.
Here's a quick example of how Learning Circle could be used to help students learning English.
Imagine you have a community partner with bilingual staff who offers to help soon to be high school freshman, who struggle with math and are also learning English.
Using Learning Circle, you can quickly identify the students by adjusting your filters.
In the screenshot below you can see that we've created a filter for current eighth grade students with an IEP who are high-risk in math.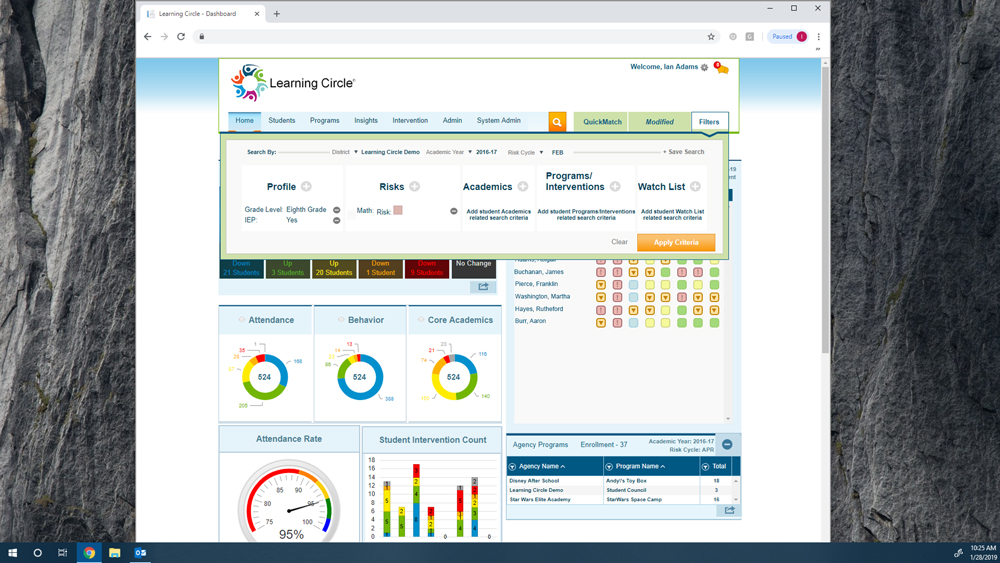 This changes the aggregate dashboard immediately and now we're in a filtered view that only shows the disaggregated data pertaining to the filter created in the previous screenshot.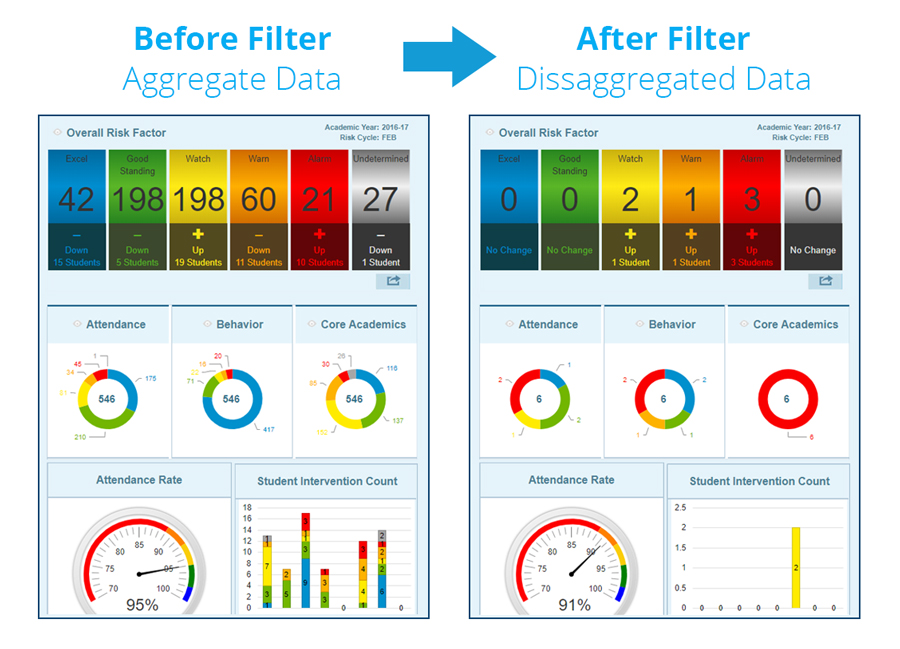 From here, we want to refer these students to the aforementioned tutoring program.
To do this we need to go to the Learning Circle students tab, and select all of the students we want to refer to the tutoring program (in this case all of them), and then click the 'Refer Students' link.
From here we can refer these students to the tutoring program with our community partner.
Now our school's community partner (in this case a local YMCA) logs into their instance of Learning Circle and sees a list of referred students from the school.
In order to gain access to them in their system, they need to complete the referral process required to be FERPA compliant. This essentially means getting parental consent.
Once the referral process is complete, the community partner will be able to see the list of referred students in their Learning Circle instance. Note that they do not have the same view as the district.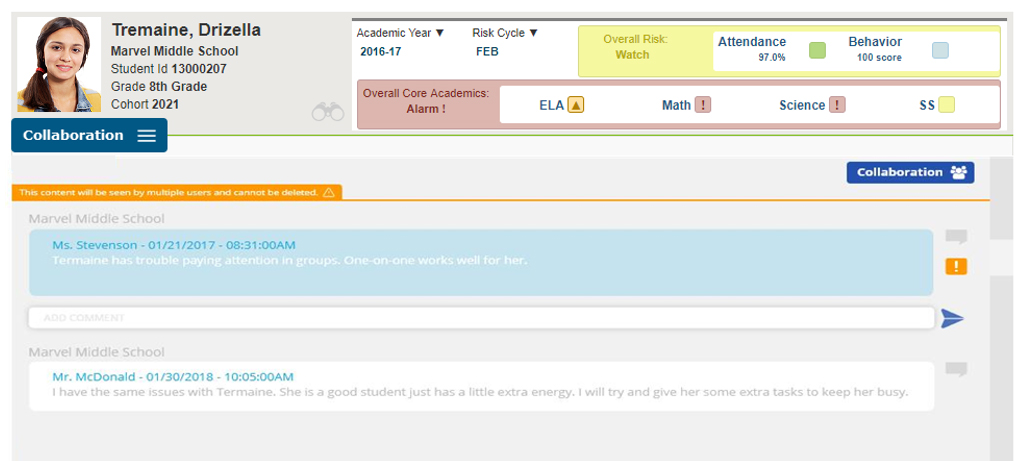 The agency will be able to gain important information regarding the student's performance in math courses.
They're also able to collaborate directly with other educators and create a shared intervention.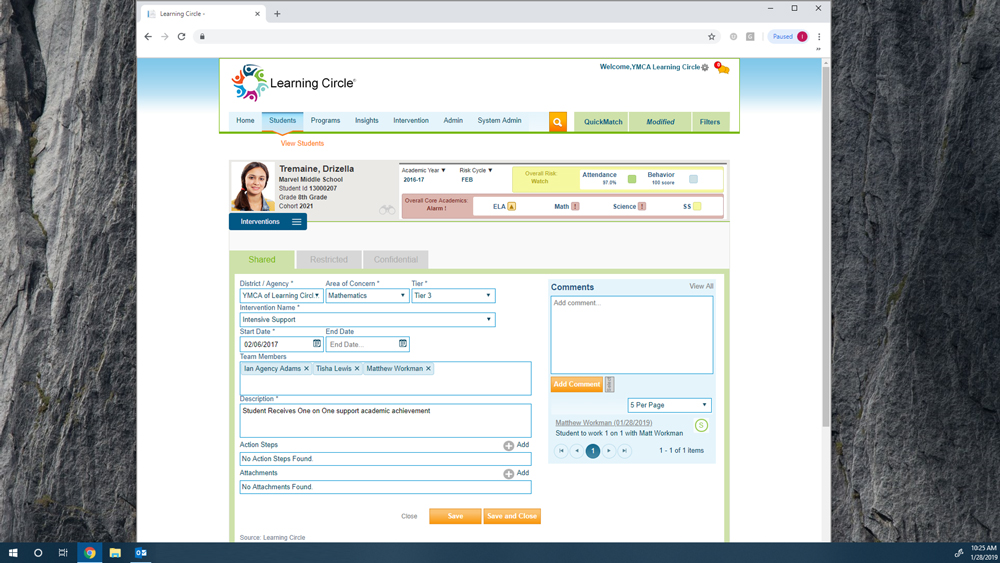 Together, educators at the school and out-of-school time providers are able to work together to ensure the right student is getting the right support at the right time.
The next step, is to measure the impact of implemented interventions and programs…
3.

Measure

 

impact

consistently.
With Learning Circle, you don't have to rely on outdated data from state report cards to see how underserved student groups are doing.
Learning Circle updates every school day with your district's performance data. (There is no manual data entry of grades, attendance or behavior incidents, for teachers to worry about.)
And, this means you can use (near) real-time data to see how programs and interventions are helping the students you serve.
Let's go back to our example from before with Math tutoring for students learning English…
Now that we have some students enrolled in our math tutoring program, we can filter by that program and examine its impact…

Exploring the Academics>Math trend graph, we can see that the tutoring program is strongly correlated with an improvement in Math.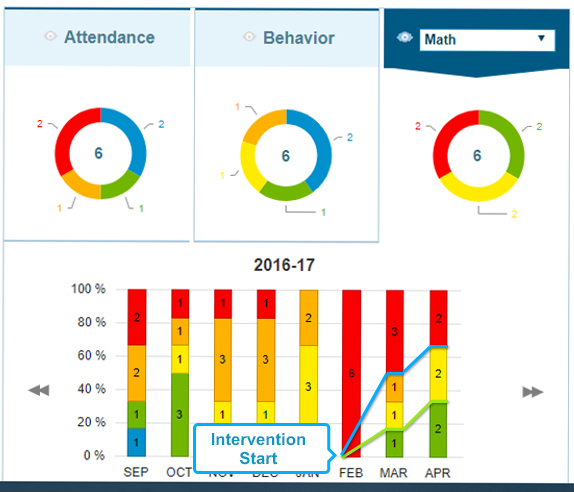 Furthermore, we can drill into our dashboard and look at improvements in specific students. This is really great for agencies who don't typically have access to academic data to be able to see if their hard work is paying off: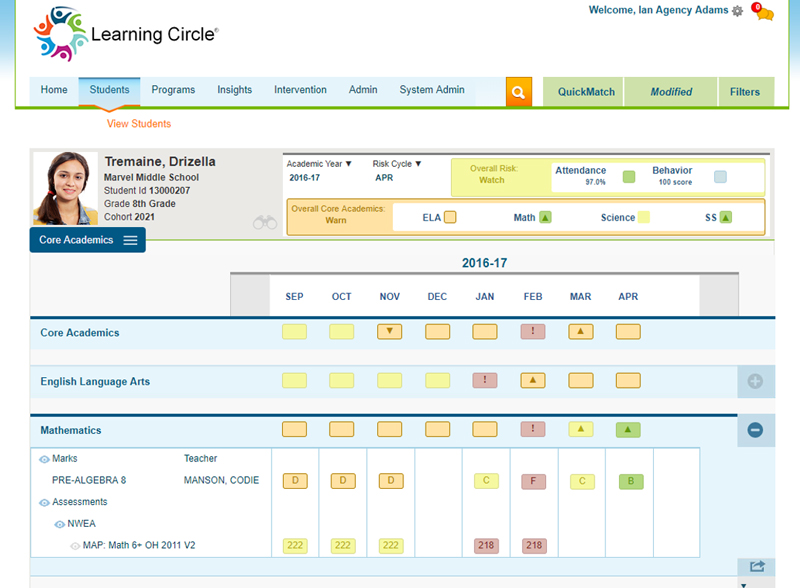 We can also look at trends with the particular student when the intervention started…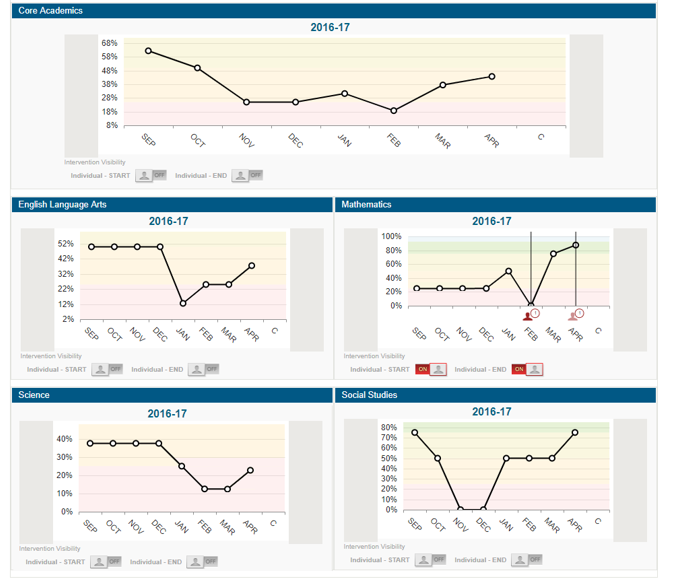 As you can see, the ability to measure program/intervention impact is extremely powerful in Learning Circle.
It's something we hope educators take advantage of continuously throughout the year to help answer the following questions:
Is the student's intervention(s) working?
Should interventions be removed, added, or remain the same?
Should we apply this intervention to similar students and expect similar results?